ORGANISING AN EVENT AT ALLIANCE FRANÇAISE ACCRA
If you would like to organise an event at Alliance Francaise Accra, fill the application form below and return it by email to events2@afaccra.com and leave a hard copy at the reception.
Conference / Exhibition hall
There are possibilities of renting our stages (Amphitheatre or Paillote Stage), the seminar room or the compound for your cultural events. However, those would have to fit in our cultural strategy and comply with certain specifications.
DO YOU WANT TO BE THE NEXT ORGANISER OF LA PAILLOTE TAKPEKPE?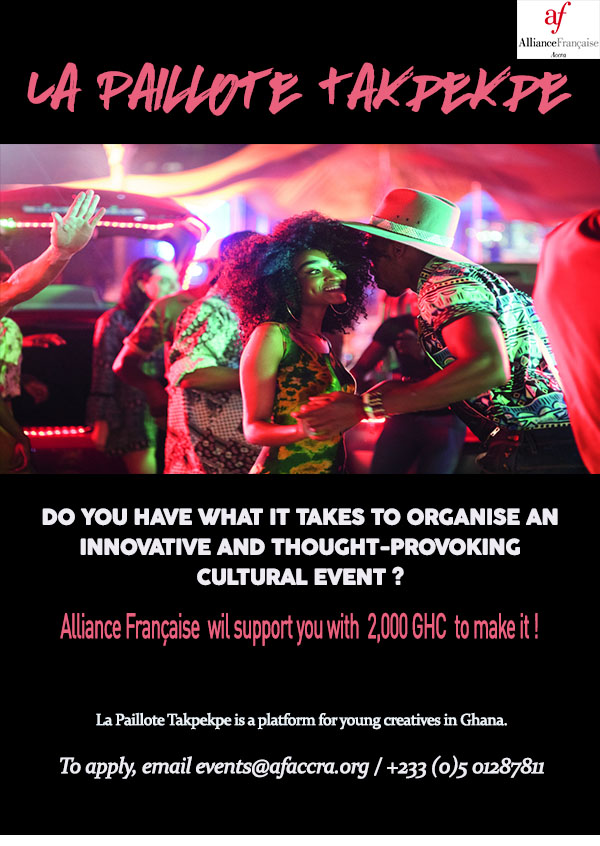 Alliance Française Accra is looking for directors for La Paillote Takpekpe.
La Paillote Takpekpe is an event that takes place once a month on the stage facing the seminar room. The opportunity is given to an artist to organize an innovative show within Alliance Française premises.
This multidisciplinary event is a platform for projects being developed by emerging artists. The organizer or "director" has a budget of GHC 2,000 and is supported and advised by the cultural team of Alliance Française Accra.
Past directors include Sir Black with the School of Performing Arts, Selorm Jay from Fullish Art, Trashy Bags, Benjamin Lebrave from Akwaaba Music, etc…
The organizer has to present a project, which must above all be creative and innovative, and should not be confined to a single art field. Music, dance, theatre and many other art forms can mingle and be part of the project. La Paillote Takpekpe should be multi-disciplinary.
For this event, the director can make use of the small stage but can also use the lawns, the terrace, involve the restaurant and have access to the seminar room if needed.
This event is also a way to support Ghanaian artists and expand access of disadvantaged audiences to arts and culture. Alliance Française Accra provides a rehearsal space, the necessary equipment (sound and light), technicians, and its expertise in logistics and communication of the event.
This is a formative experience: each director of La Paillote Takpekpe must establish a specific and detailed program but also manage a budget, develop a communication campaign, etc…
If you want to propose a project for La Paillote Takpekpe, please complete and return the attached document.
Thanks in advance.
Contact: events2@afaccra.com