M3NSA + Some Names We Can't Announce present…BONDZIE Live
28/05/2022 20:00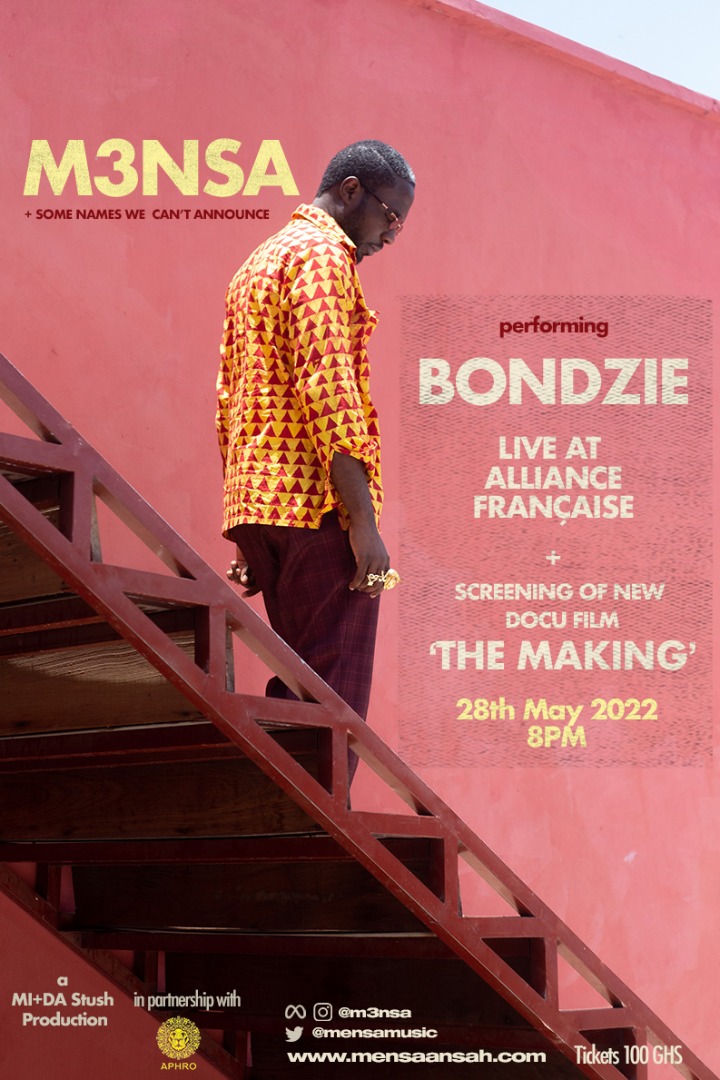 M3NSA + Some Names We Can't Announce
present…BONDZIE Live
Description: After becoming the first Ghanaian music artist to successfully fund the release of an album through Kickstarter, M3NSA is ready to bring BONDZIE.
The funding and the production of the album BONDZIE took place during the Pandemic, probably the most difficult time for music artists worldwide.
This makes the show one of the most anticipated for the Ghanaian music lover. BONDZIE has been a success across borders and it's finally time to experience it live for the first time, in a concert that M3NSA wants to bring back to Alliance Française where he has performed sold out concerts throughout his career.
M3NSA has been a prominent name in the Ghanaian music industry for the past 20 years, pioneering the success of HIpLife with Reggie Rockstone and then pursuing a career that brought him on stages all over the world performing with his bands FOKN Bois and RedRed, composing and producing for names like Damon Albarn, Tony Allen, Sarkodie, M.anifest, Songhoy Blues, Nneka and more.
With a special set up and the Premiere of a new documentary called "BONDZIE, The Making," this event has all the elements.
Date: 28th May 2022
Time: 8pm
Tickets (Early bird): GHC 80.