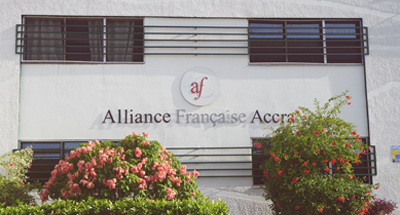 Who are we
Established in 1957, Alliance Française d'Accra is an independent, not-for-profit association regulated by local law based upon the initiative of civil society to exchange cultural and linguistic values. We aim at promoting French language, cultural diversity and Franco-Ghanaian cultural exchanges that are fuelled by a passion of mutual enrichment.
We are part of an international network composed of 837 centers in 131 countries and are world-renowned for the quality of our French courses. As an established leader in teaching French as a foreign language, we offer customized training for all levels (beginner to advanced and specialized courses), student's goals and characteristics: children, students, professionals and civil servants. We are also the only examinations center in Ghana for internationally-recognized tests and diplomas (DELF, DALF, DAEFLE, TCF and TEF). We welcome more than 4,000 students each year.
As a cultural institution, we hold cultural events to promote cultural diversity with local and international artists. With 85 events a year, we welcome more than 30,000 visitors, which makes us one of the major artistic venues in Accra. We also have a multimedia library that offers a wide range of materials, as well as several activities for adults and kids: video games, media corner with online newspapers, electronic tablets, internet, etc.
Motivated by common values at Alliances such as respect for cultural diversity, the passion for exchange and solidarity, associative values, , excellence, modernity and innovation, the AF ties deep links with the civil society, cultural and educational institutions, NGOs, as such contributing to the development of regional culture. Among these, we have:French Embassy, Goethe Institut, AWDF, Orphan Aid, Eunic, National Theatre, Naptex, AFD, CCFG, National Service, France Volontaires…